PROSENSO™ BIODEGRADABLE is a brand new and revolutionizing nitrile glove product manufactured by Eastwest Medico ApS.
PROSENSO™ BIODEGRADABLE is the first biodegradable and accelerator-free nitrile glove on the market. The gloves are made with a new and unique NBR formula (Nitrile Butadiene Rubber) that enables the gloves to biodegrade by microbial action in aerobic and anaerobic environments within 3-5 years. As a reference, regular nitrile gloves biodegrade in 100-200 years.
Biodegradable
Biodegradation occurs in a two-step process. Firstly, the surface of the gloves undergoes erosion, by which the outermost layer of the gloves breaks down. In the second step, microorganisms secrete enzymes that chemically break down the remains of the glove. The resulting product is a nutrient-rich, water-insoluble food source that the microbial population can readily consume.
Low modulus – premium nitrile
There are as many different formulas of nitrile rubber as there are different kinds of chocolate. The raw materials are mixed at the factories, and each factory has its own patented formula. PROSENSO™ BLACK is manufactured with a patented premium low-modulus formula that makes it softer and more flexible than regular nitrile gloves. Read more about Low Modulus, or as we call it, Premium Nitrile.
Accelerator-Free
To ensure that the gloves are as comfortable as possible, they are manufactured entirely without chemical accelerators. 95% of all nitrile gloves on the market are manufactured with chemical accelerators, which have been shown to cause Type IV Hypersensitivity with long time use. PROSENSO™ BIODEGRADABLE are accelerator-free for maximum skin protection. Read more about Accelerator-Free Nitrile Gloves.
Medical Device and PPE
The gloves are certified as Medical Device Class I and PPE CAT III. The gloves have been tested against numerous chemicals, fentanyl, and cytostatic drugs (chemo). This makes PROSENSO™ BIODEGRADABLE ideal to use in high-risk situations where a low-weight glove is preferred.

ISO 9001
We are a Denmark-based ISO 9001-certified medical device manufacturer, importer, and distributor. By following a strict QMS, we ensure that our clients always get the highest attention and the best quality products.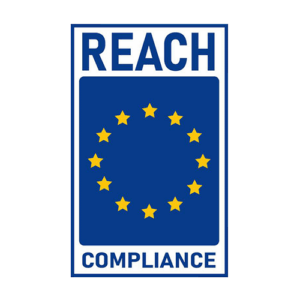 REACH
The REACH Regulation was introduced by the EU in 2007. Its aim is to improve the protection of people and the environment from the risks posed by chemicals. REACH stands for Registration, Evaluation, Authorisation and Restriction of Chemicals.
Quality Standards
EN 455-1:2020, EN 455-2015, EN 455-3:2015, EN 455-4:2009
EN 374-1:2016, EN 374-1:2016/A1:2018, EN 374-2:2019
EN 374-4:2019, EN 374-5 :2016. EN 16523-1:2015+A12018, EN420:2003+A1:2009

ISO 9001:2015, ISO 13485:2016, ISO 14001:2015

Suitable for foodstuffs in accordance to Framework Regulation (EC) No 1935/2004
German Food and Feed Code (LFGB)
Recommendation of the German Federal Institute for Risk Assessment (BfR XXI)
Category 3 ''For short contact with foodstuffs''

Medical Device, Class 1, in accordance to MDR 2017/745

Personal protective equipment in accordance to Regulation (EU) 2016/425
CE Category III: For irreversible or mortal risks
Specifications
Weight per glove: 3.5 g
Low modulus